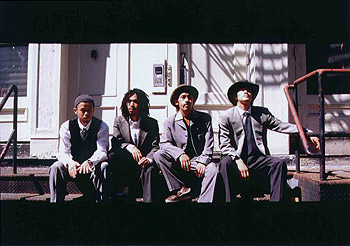 Biography

STAX GROOVE
IZM,YOSSY,SHUN,MUNEの4人によるダンスクリエイター集団。
HIP HOP,HOUSEのグラウンドでの活動を生かし99'渡英米後、FUSION,Be-Bop,Broken"=Future Jazzy Dance Styleを追求。02'STAX GROOVEでAsia,EU,USにてWorld Tourを大成功のうちに収め日本でもJAZZ MUSICで踊る文化を広めている。JAZZという枠を広げ、個々に自由な響きを探求し身体で音を奏で、創りだす事を重点においている。
クラブシーンでの活動を中心に、この先も限りなく進化していく音(Groove)に身を委ねこの時代によい影響を与え続けていければと願う。
London,Singapole,Hong Kong,Shanghai,他数多くLIVEを繰り広げている。
Tokyo Metropolitan Heven Artist Licence 取得。

Best Session is
SOULIVE , Mark de clive low feat Bembe Segue, Michael white&Leisei Chen,
Build an ark,Sleep Walker,Isao Suzuki,,Toku,上田正樹&B.B.B.B,AQAPIT,Soil&Pimp Sessions,FREEMAN,Tomoo Tsuruya,Makoto Kuriya, Kankawa122,Yabe(U.F.O),Izanami,Jerry I.D.J,and many JAZZMEN....

世界へ向けてSTAX GROOVEとして7年ぶり待望のDVD発売決定。

Formed in 1994,Stax Groove is a renowned Hip hop/FutureJazzy dance group in Tokyo.which has not only performed as the back dancer unit for numerous famous Japanese musicians,but also created its own dance world based on the Tokyo underground dance scene.staging at clubs,public dance performances,jazz clubs and on the on street performances all over the world,including New York.

Stax Groove's 4 amazing dancers-Shun,Yossy,Mune and Izm,started originally with hip-hop, break dancing,house,then moved onto freestyle jazz dancing.A regular feature at the renowned JAZZ CATS parties in Tokyo.Stax Groove holds the belief that jazz has no confined format or restriction.The DJ's playing at JAZZCATS untillze the freshest freestyle technique,mixing hip hop,house,old jazz,funk,soul,broken beats,Detroit techno and any music that theDJs subjectively regard as jazz.Cortfied by the Tokyo Metropolitan Goverment with the Heaven Artist License,Stax Groove expresses.Jazz is originally supposed to be danced to Being the leading authonty in Japan.

We intend to share the joy and artistry of the art form.there is only a fine line between dividing music into genres and dividing dance into genres.

Common elements are contained in all.






Discography

STAX GROOVEとして7年ぶりのDVDが2005.06.25 Release。
新たに進化し続けるFuture Jazz style,世界へ向けて歴史を残す為に。
Tokyo Metro politan Heven Artist Licence Dancer
World Dance Tour STAXGROOVE presents
"fusionworldtour2002"Asia
【Korea/Taipe, EU(France/London),US(Newyork)】

Guest Dance&Judge:
2003-Taipei,2004-London,Singapole,Hong Kong,Korea
2005-England,France,Holland

Support Dancer:
INDY 500"Rogger Yasukawa"Back up Dancer
JANET JACKSON Japan Tour After Party Guest Dance Live
帝国ホテル"20TH Anniversary Party Guest Dancer
Photographer"Tadayuki Naitoh"LIVE

Dance Session:
SOULIVE Japan Tour 2004
Mark de clive-lowe feat Bembe Segue Michael white&Leisei Chen LIVE

Front act:
THE ROOTS,Nice&Smooth Japan Tour

JAZZ session:
Sleep Walke, Isao Suzuki, Toku, 上田正樹&B.B.B.B, AQAPIT,Soil&Pimp Sessions, FREEMAN, Tomoo Tsuruya, Makoto Kuriya, Toshio Matsuura, Kankawa122, U.F.O, Izanami, and many best musician....

Concert Tour &PV&TV:
Pushim,Keyco, 安室奈美恵, 浜崎あゆみ, TRF, Br.Korn, Puffy, TUBE,大江千里

Fashion Show&Model:
Addidas corection dancer,Lanvin en Blue,K-Swiss

TV:
NHK"Pop Jam", TV-Asahi"Street Fighters"

CM Firm:
Tokyo Disney Resort ,SANYO MD Walkman

Movie:
「催眠」

Detail info : www.staxgroove.com